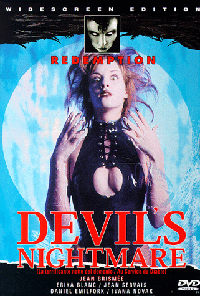 CLICK IMAGE TO ORDER
DEVIL'S NIGHTMARE (1971)
Directed by Jean Brismee.
Starring Erika Blanc, Jean Servais, Jacques Monseau and Ivana Novak.
Running Time: 93 minutes
Widescreen (1.85:1 aspect ratio)

This is the first time this demented slice of Italian sleeze has been available in its full widescreen glory. Featuring a collection of shifty aristos, grumpy servants and a saucy homicidal succubus played by Erika Blanc - this is 70's gothic at its campiest best. The story revolves around a great of people that get stranded at an old castle and each has a flavour for one of the seven deadly sins which in this case live up to their name!
This is the REDEMPTION video release which is UNCUT and in English. It is presented in the WIDESCREEN format with an aspect ratio of approximately 1.85:1
BONUS: Includes the original theatrical trailer!