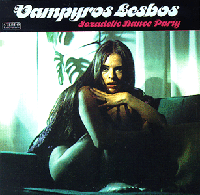 CLICK IMAGE TO ORDER
VAMPYROS LESBOS - SEXADELIC DANCE PARTY
Original Soundtrack Recording
Music by Manfred Hubler, Siegfried Schwab and Jess Franco

Incredibly groovy "lounge" type music from Franco's VAMPYROS LESBOS and SHE KILLS IN ECSTASY is irresistibly charming. Fans of "funk" music should not miss out on this ultra kewl CD release. It's a delirious blend of jazz, funk, rock and lounge music and comes off as sounding like twisted muzak from a lost time. In short, too kewl for mere words to express what your ears will hear and your soul will feel.

Of note is that Quentin Tarentino used a track from this CD in his movie JACKIE BROWN.