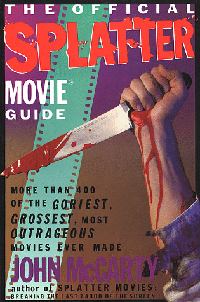 CLICK IMAGE TO ORDER
THE OFFICIAL SPLATTER MOVIE GUIDE
Written by John McCarty.
Paperback - 1st Edition (August 1989)
Published by St. Martin's Press
Book Description
This book is a dream come true for splatter aficionados: a film-by-film guide to more than four hundred masterworks of blood and gore, arranged in a handy alphabetical format. Detailed entries include Director, Producer, Actors and year of production along with a brief plot summary. A great book for fans of horror and gore films.
Includes 16 pages of b/w photos.


CLICK IMAGE TO ORDER
THE OFFICIAL SPLATTER MOVIE GUIDE - Vol. 2
Written by John McCarty.
Paperback Revised Edition (February 1992)
Published by St. Martin's Press
Book Description
The man who coined the term "splatter movie" separates the anemic from the ebullient in this all-new volume presenting hundreds of the goriest, grossest, and most outrageous films ever made. Includes summaries and commentaries on recent films as well as some which were overlooked in Volume I. Essential reading for film buffs, gorehounds, and concerned parents everywhere.
Includes 24 pages of b/W photos.